Upload by Taiguara.Obrigado.

Myspace
Papa John Creach (1917-1994) was the fiddler for many bands like Jefferson Airplane, Hot Tuna and Steve Taylor.

Side One

1 "Filthy Funky" (Miles Grayson)
2 "No More Country Girls" (Grayson, Lermon Horton)
3 "Don't Tell It To No One" (Papa John Creach)
4 "Mother's Day" (Roger Spotts)
5 "Walking the Tou Tou" (Jorma Kaukonen)

Side Two

1 "Everybody Wants My Good Thing" (Grayson, Horton)
2 "Far Out" (Spotts)
3 "Give Me an Hour in Your Garden (And I'll Show You How to Plant a Rose)" (Grayson, Horton)
4 "Time Out for Sex" (Spotts)
5 "Up in the Alley" (Creach)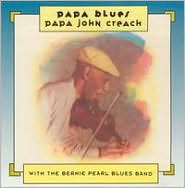 1992 Papa Blues
01 Sweet Life Blues (Bernie Pearl)
02 Bumble Bee Blues (traditional)
03 Old Fashioned Papa (Pearl)
04 Big Leg Baby (Lermon Horton)
05 Why Don't You Let Me Be (Big Terry DeRouen)
06 Scufflin' (Pearl)
07 Tired of Crying (DeRouen)
08 Papa Blues (Papa John Creach)
09 I Think You're Stepping Out on Me (Doug MacLeod)
10 Train to Memphis (Pearl)
11 Walking My Way Back to You (MacLeod)
12 Girl, You Must Be Crazy (DeRouen)
13 Baby Please Don't Go (Big Joe Williams)


LINK's PARA DOWNLOAD ESTÃO EM COMENTÁRIOS !!
LINK's FOR DOWNLOAD ARE IN COMMENTS !!